Rick Stout, Principal
Rick Stout has extensive experience in development, economic analysis, transaction structuring, land acquisition and entitlement, project finance, and taxation. Prior to forming the company in 1983, Rick was Vice President of Morgan Stanley, where he was involved in arranging over one-half billion dollars of financing and property sales in the Washington area. Mr. Stout received a B.A. from Middlebury College and an M.B.A. from Case Western Reserve University. Rick is a C.P.A. and a licensed real estate broker in Maryland, DC, and Virginia.
rstout@stoutandteague.com
Neel Teague, Principal
Neel Teague is experienced in property valuation, feasibility analysis, land acquisition, leasing, design, construction finance, and management of office, retail, and residential property. He provides asset management advice to a number of the firm's institutional and non-profit clients. Prior to forming Stout and Teague, Neel was Vice President of Quadrangle Development Corporation, a Washington, D.C. real estate development and management firm. Neel received his B.A. in Architecture from Yale University and an M.B.A. in Finance and Real Estate at the Wharton School, University of Pennsylvania. He is a licensed real estate broker in Maryland, DC, and Virginia. Neel is President of the Takoma/Langley Crossroads Development Authority and a Director of the Southeast Fairfax Development Corporation.
nteague@stoutandteague.com
Kim Myers, Principal, VP Finance & Accounting
Kim Myers manages all aspects of accounting operations, overseeing general ledger and financial and tax reporting for client accounts and company investments in accordance with their policies, including GAAP reporting.  Kim maintains banking and lender relations for clients and company accounts, working with multiple financial institutions. She also serves as the firm's human resources manager, establishing, monitoring and enforcing employment policies, payroll, and benefits and retirement savings plans. Prior to joining Stout & Teague, Kim worked for Tishman Speyer, and Jair Lynch, a DC-based property development firm. Kim received a B.S. in Business Administration in finance and accounting from American University, while playing on a full basketball scholarship for four years, and earned a Masters in Business Administration from Marymount University.
In her free time, Kim enjoys spending time with her husband and two daughters, sharing her love for sports with them, cheering them on during their many activities around Northern Virginia and coaching her daughter's basketball team.  As a dual Canadian/U.S. citizen, she makes sure to travel up north regularly to share her roots with her girls.
kmyers@stoutandteague.com
Pam Hill, Principal, VP Property Management
Pam Hill heads Stout & Teague's property management operations and project support for development activities. Pam handles operations and budgeting, and oversees tenant build-outs and capital projects. She has been with Stout & Teague since 2007 and during her tenure has led multiple technology implementations, focused on employee career growth plans, and prioritized environmentally friendly practices as standard operating procedure. Pam partners with the executive team to both support and shape core company goals. She is experienced in working with commercial, residential, and retail properties and customizing her management plan to meet the individualized needs of each building owner. Prior to coming to Stout & Teague, Pam was a property manager with Capital Realty Management Group. She is a true Washington area local, grew up in Maryland, is a graduate of the University of Maryland, with a Bachelor of Science in Business and is a licensed real estate agent in Maryland. Pam is a designated RPA and has earned her Leadership in Energy and Environmental Design (LEED) Green Associate accreditation.
In her free time, Pam enjoys traveling the world, exploring the many cycling paths in the DC metro area, and experimenting with cooking everything from scratch.  She is also a dedicated supporter of the local farmers markets and local cycling organizations.
phill@stoutandteague.com
Rick Lowman, Director of Engineering
Rick Lowman has nearly 30 years of experience in commercial/residential engineering and facilities management, and oversees building engineering and maintenance services for multiple buildings in Washington, DC and Maryland. Prior to joining Stout & Teague, Mr. Lowman was the Engineering Operations Manager for Southern Management Corporation where he was responsible for operations, procurement, capital improvements and regulatory compliance for building mechanical systems for dozens of residential and mixed-use communities and several commercial buildings. He is involved with the National Association of Power Engineers (NAPE), Apartment and Office Building Association (AOBA) and is currently on the Board of Directors of the Property Management Association (PMA). He is a licensed 1st Class Maryland Stationary Engineer and 1st Class National Institute of Uniformed Licensing of Power Engineers (NIULPE). Prior to his career in property management, Mr. Lowman honorably served in the United States Air Force.
rlowman@stoutandteague.com
Mollye Schneeberg, Director of Leasing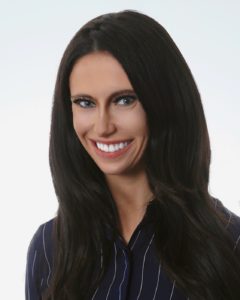 Mollye Schneeberg leads the leasing operations for Stout and Teague, including the company's owned portfolio, properties managed for third parties, and independent tenants seeking superlative representation. She has extensive experience with lease negotiations, representing both landlords and tenants throughout DC, Maryland and Virginia. Prior to joining Stout & Teague, Mollye worked at RB Properties, where she provided in-house leasing services and marketing strategy for approximately 1.5 million square feet of office and retail space in downtown DC. Mollye also worked for CWCapital Asset Management, where she was responsible for the business strategy for over 3 million square feet of large balance assets across the United States. She is a graduate of American University with a B.S. in Business Administration and is involved with several professional organizations, including CREW and ICSC. In her free time, Mollye enjoys fitness, playing violin and rooting for the New York Mets.
mschneeberg@stoutandteague.com
G. Carter Clarke, Senior Development Associate
Carter joined Stout & Teague in 2019 as a Senior Development Associate. He has a strong background in real estate finance, and is also engaged in commercial leasing and marketing for Stout & Teague properties and clients. Prior to joining Stout & Teague, Carter worked for HSN Realty Corp., an owner/operator of commercial real estate in New York City, while completing his Master of Science in Real Estate at NYU. He has previous experience as a Credit Analyst at J.P. Morgan and as a Research Analyst at Point72. Carter graduated from Cornell University with a B.S. in Applied Economics and Management and competed on their men's varsity squash team. He has passed the three levels of the CFA curriculum and is a member of the Urban Land Institute. Carter is a Northern Virginia native.
cclarke@stoutandteague.com
Rebecca Teague, Property Manager
Rebecca is the property manager for the firm's Virginia, Maryland and Washington, DC commercial properties. She oversees the day-to-day operations of each assigned property, and completes yearly budgets, monthly variance reports, tenant improvement projects as well as periodic building inspections. Prior to her promotion to property manager, Rebecca was Tenant Services Coordinator. Prior to joining Stout & Teague, Rebecca was a political fellow with Giffords, and front office coordinator with Hillwood: A Perot Company. Rebecca is a graduate of Elon University, with a Bachelor of Arts in Political Science and International Studies.
rteague@stoutandteague.com
Allison Gleason, Property Manager
Allison is property manager for the firm's residential properties and the Public Welfare foundation in Washington, DC. She oversees the day-to-day operations of each assigned property, monthly variance reports, as well as periodic building inspections. Prior to joining Stout & Teague, Allison was a food service manager in the Pentagon. She is a graduate of Mansfield University, with a Bachelor of Science in Nutrition and Dietetics.
agleason@stoutandteague.com
Aleksandra Kinsky, Property Accountant
Aleksandra Kinsky is Property Accountant for the firm. She is responsible for monthly financial statements including general ledger activity, fixed assets, and correspondence with owner representatives and assisting property management with variance explanations.  She also provides development accounting, consisting of draw requests and project tracking for Stout & Teague's land development projects.  She was promoted from her position as Staff Accountant at Stout & Teague. Prior to joining Stout & Teague, Aleksandra was Staff Accountant for Rosenthal Properties. She earned a Master's Degree in European Business Relations from University of Zielona Gora in Poland and a Bachelor's Degree in Business Management from State Graduation School of Professional Studies in Legnica in Poland. Currently, she is pursuing a Bachelor's Degree in Accounting at George Mason University.  She enjoys traveling and learning about the history and culture of other countries.
akinsky@stoutandteague.com